YARRA HILLS SECONDARY COLLEGE TOURS 2023
Scheduled tours at our Mooroolbark Campus are on a Wednesday at 9.00am and Friday at 12.00pm and continue at these days and times throughout the year.
Scheduled tours at Mount Evelyn Campus are on a Tuesday 10.15am and Friday 10.15am and will continue at these days and times throughout the year.
Looking forward to seeing you.
READY TO ENROL?
Our Mooroolbark Campus typically accepts enrolments from the areas of Mooroolbark, Kilsyth, Croydon, Bayswater, Montrose and Lilydale.
Our Mt Evelyn Campus also takes enrolments from Mt Evelyn, Wandin, Wandin North, Seville, Woori Yallock and beyond.
Primary school students and parents are invited to attend our annual college Information Nights. Year 7 enrolments for the following year are accepted through the primary school application process. New families to our school community throughout the year will be asked to attend an enrolment interview. At this interview you will have the opportunity to ask any further questions you may have in regards to the enrolment of your child.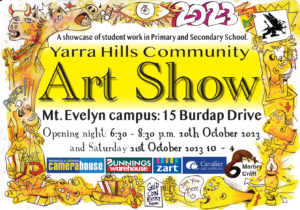 AMAZING EVENTS AND OPPORTUNITIES
4 SEPTEMBER – COLLEGE CONCERT
7 SEPTEMBER – PARENT TEACHER INTERVIEWS
11 SEPTEMBER – RUOK DAY
11-15 SEPTEMBER – PRACTICE EXAMS
15 SEPTEMBER – TERM 3 ENDS 2.30
2 OCTOBER – TERM 4 STARTS
10 OCTOBER – YEAR 12 FUTURE CAREERS DRESS UP DAY
16 OCTOBER – YEAR 12 ALTERED UNIFORM DAY
17 OCTOBER – LAST DAY YEAR 12
7 NOVEMBER- CUP DAY
17 NOVEMBER – VALEDICTORY YEAR 12
24 NOVEMBER – REPORT WRITING DAY
7 DECEMBER – SMALL SCHOOLS DAY
7 DECEMBER – TWILIGHT CAROLS AND FAMILY PICNIC 7PM
12 DECEMBER – YEAR 7 ORIENTATION DAY
13 DECEMBER – AWARDS NIGHT KARRALYKA
14 DECEMBER – GRADE 6 – YEAR 7 READY TO LEARN INTERVIEWS
20 DECEMBER – LAST DAY TERM 4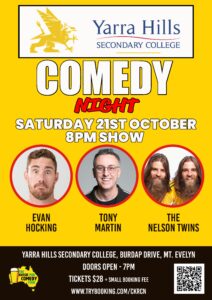 https://www.trybooking.com/CKRCN